Appointments Scheduler
View & Organize All of Your & Staffs' Appointments
Clear Biz includes an easy-to-use appointment scheduler planner complete with multiple views
that allows you to control your schedule. Clear Biz runs off a central database on your network so
everyone can view and access eachother's schedules with a click of a mouse.
The key to a well-run, organized office is to give each of your staff members the tools they need,
so they know what they need to do and when they need to do it. Clear Biz provides them with a
single transparent system which updates information in real time.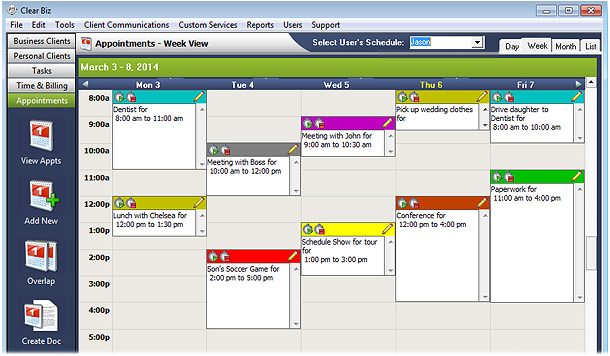 Appointments Features:
• Easy-to-use interface which allows you to view appointments by day, week, month or you can
search for appointments that meet your criteria.
• Easily create repeating appointments and assign them to multiple employees at once.
• Automatically notify your clients of their upcoming appointments by email, fax, letter or be
reminded to call them.
• Overlap two or more employees' appointment schedules to quickly to view common available times.
Managing Your Staff's Appointments
One of the difficulties of an appointment calendar is managing the appointments of several staff
members. In Clear Biz, each staff gets their own appointment profile so you can easily switch
between the appointments assigned to different staff members.
Overlap Staff's Appointments
Our Overlap Wizard in Clear Biz allows you to overlap several staff member's appointment schedules
at once so that you can see common available times in which to schedule appointments multiple
people need to attend.
Notifying Your Clients Of Their Upcoming Appointments
Clear Biz allows you to notify your clients of their upcoming appointments by email, fax, letter or
phone. Because Clear Biz integrates all the components together, Clear Biz already has all the
information it needs to send a reminder to the client of their upcoming appointment for you.