30-Day Free Trial
The free-trial is a full working version with all of the Clear Biz features and gives you the
option to select which edition you would like to try for 30 days from date of the download.
We no longer support Clear Biz for Windows XP.
1) Download Clear Biz
Click on the

'Download'

link below. Client Track is compatible with 32 & 64-bit Windows.
Using Internet Explorer (for Firefox & Chrome, click here)
After clicking the download link above, a pop-up bar will appear on bottom. Click
.

A second warning may appear. Click
.

In the 'SmartScreen Filter' window, click
run the Clear Biz setup file (.exe).
as shown below. Click to
Using Firefox or Chrome
After clicking the download link above, select
and then click .
and save .exe file to your desktop
Note:

If using Chrome, the setup file will download automatically to your computer.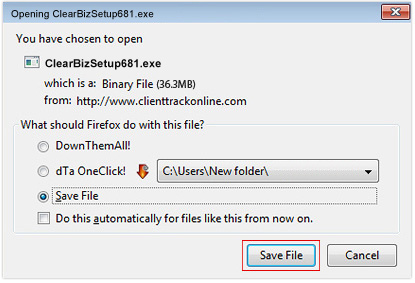 2) Install Clear Biz
After download is complete, double-click on the Clear Biz setup icon (.exe) on your desktop.
A 'Setup Wizard' window will appear as shown below. Follow these instructions:
- Click
- Click and then click .
- Click to install Clear Biz in the default folder on your computer.
- Click to accept additional tasks.
- Click .
- Click to complete installation.
to begin installation.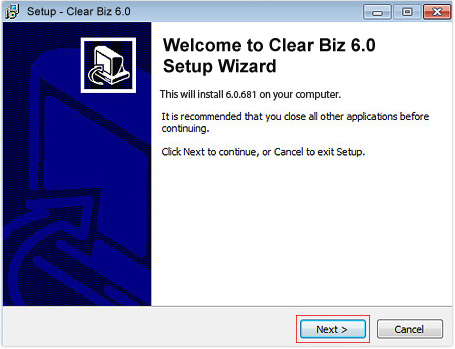 3) Setup Clear Biz
After installation of Clear Biz is complete (Step 2), the next step would be set up Clear Biz
such as personal information, data file setup, importing your clients, etc.
> For instructions on how to setup Clear Biz, click here.